Welcoming Global Gorloks at International Student Orientation Oct. 17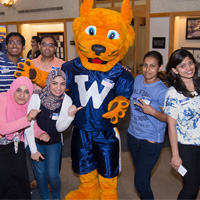 Join the Multicultural Center and International Student Affairs (MCISA) in welcoming our new class of international student to St. Louis from all around the world! Their orientation will be held on Monday, Oct. 17.

To extend our warm welcome, please familiarize yourselves with the schedule of events and resources available to help new students when they first arrive.

International students are already arriving and navigating campus resources, so please use these resources below to answer any questions about directions or locations of programs. Direct students to locations they may be unfamiliar with to help them find their way.

International Student Orientation Monday, Oct.17
Check in at the Webster University Library lobby (101 Edgar Road)
Immigration Check-in during orientation from 11:15 a.m. - 12:30 p.m.
Orientation includes a Student Resource Fair for new students to view and print their student class schedules, open bank accounts, set up mobile phone services, learn more about billing, career planning, campus involvement, and much more.
Please encourage students to register and refer to the schedules in the links below:
International Student Orientation website
Admitted Student Guide – Designed to help guide students step-by-step from the point of admission through arrival and orientation on campus, this website provides a list of everything a new student needs to do and complete before and after arrival on campus.
Orientation RSVP and Airport Pickup Requests – Students arriving for the first time in St. Louis may request free airport pickup service with advance notice. We confirm with students via email regarding arrival procedures and how to find us at the airport.
Multicultural Center and International Student Affairs (MCISA)
The MCISA office is located at 536 Garden (next to the University Bookstore). We are open from 8:30 a.m. to 4:30 p.m., Monday through Friday. Help us welcome our new class of global Gorloks!
Photos from past orientations can also be found on our Facebook page, on Instagram and in our Flickr albums.