International Student Orientation Schedule, Resources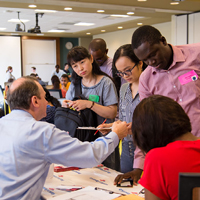 Orientation for international students has begun in St. Louis, with graduates students receiving orientation on Aug. 17 and activities for all students continuing this week.
To extend our warm welcome, please familiarize yourselves with the schedule of events and resources available to help new students when they first arrive. International students are already arriving and navigating campus resources, so please use these resources to answer any questions about directions or locations of programs.
The Multicultural Center and International Student Affairs invites you to review our new website resources at www.webster.edu/mcisa or email us with any questions at mcisa@webster.edu.
Key Event Dates
Graduate Orientation - Aug. 17
Undergraduate International Student Orientation - Aug. 22
Welcome Weekend - Aug. 22-25
Resources
Please join us in welcoming our newest class of Global Gorloks!