Welcome International Students for Orientation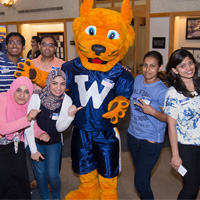 The Multicultural Center and International Student Affairs (MCISA) has been working hard to prepare for the upcoming arrival of new international students on campus.
Our new class of students come to St. Louis from all around the world: India, Uzbekistan, China, and Nigeria with four students from the Chengdu campus and two students from the Thai campuses studying abroad for the summer term.
To extend our warm welcome, please familiarize yourselves with the schedule of events and resources available to help new students when they first arrive. International students are already arriving and navigating campus resources, so please use these resources below to answer any questions about directions or locations of programs.
International Student Orientation website
http://blogs.webster.edu/mcisa/programs/international-student-orientation/
Orientation Schedules
http://blogs.webster.edu/mcisa/orientation-schedules/
Where can you find us?
The MCISA office is located at 536 Garden (next to the University Bookstore). We are open from 8:30 a.m. to 4:30 p.m. Monday through Friday.
Campus Closure – Monday, May 28: Students have been advised to arrive for on campus move-in on Saturday, May 26, or thereafter.
While the banks and the Webster Main Campus services will be closed, other resources such as grocery stores, mobile phone stores and clothing stores will be open but may have limited hours. Students may use Webster wifi to check hours for stores online.
A Local Resource Guide is available at http://blogs.webster.edu/mcisa/localresourceguide/that includes important information regarding local transportation, shopping, services and hotel/motel information.
Help us welcome our new class of Global Gorloks!