Register Your Department for the Sept. 5 Involvement Fair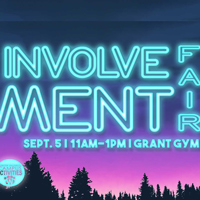 The annual Involvement Fair will take place Wednesday, Sept. 5, from 11 a.m. to 1 p.m. in Grant Gymnasium.
The event is geared towards Webster student organizations, campus departments, and community friends to gather together to share information, recruit volunteers and new members and invite and encourage students to get involved.
Webster campus departments and student organizations planning to participate with a display table must register here.