New Giving Society Honors Webster's First African American Graduates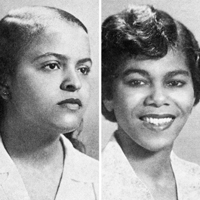 As we kick off our 5th Annual Diversity & Inclusion Conference with over 1,000 registered participants, Webster University is proud to announce The Jackson & Thomas Leadership Giving Society to raise funds for our students.
This distinctive society honors Webster's longstanding commitment to inclusion and secures a financially strong future for our students.
In 1950, Jeannette Mae Jackson and Janet Irene Thomas were the first two African Americans to graduate from Webster University. Jeannette and Janet were pioneers of their time who represent Webster's early emphasis on inclusion.
Today, more than 41,000 African Americans have earned nearly 47,500 undergraduate, graduate and doctoral degrees from Webster University. What began with only two graduates has expanded to a global community of successful African American alumni.
The Jackson & Thomas Leadership Giving Society recognizes Jeannette and Janet and demonstrates our long-standing commitment to diversity, equity and inclusion.
We invite African American Webster University alumni and our friends and colleagues in the Webster University global network to join the Society and make a gift in support of today's students.
Make a gift today at alumni.webster.edu/JacksonThomasSociety