Janice Neal Named CCME President for 2019-20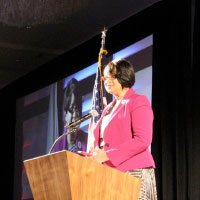 Janice Neal, director of the Webster campus location at Los Angeles Air Force Base and regional director for the Western Region of military campuses, took office as President of the Council of College and Military Educators (CCME) during the organization's Annual Symposium in Austin, Texas on Jan. 24.
Neal has been actively involved in the CCME board since 2010 when she began serving as Webster director of the Los Angeles Air Force Base campus location. She previously held positions as CCME secretary, vice president, and is now president in 2019-20.
"It has been a pleasure serving on the CCME Board for the past six years," said Neal, while addressing the CCME board. "As President, I plan to add to the foundation and a new strategic plan. My goal is for CCME to continue to be the premier forum for information and conversation between military services, colleges, and universities."
Neal joined Webster University on the Webster Groves campus in 1998 and has served in different capacities, from University Bursar to her current role as regional director. As the daughter of a retired US Air Force Veteran, with many other family members also serving in the armed forces, she is well acquainted with our military students' needs. She is a strong advocate for higher education and for our military service-members and families.
Kyle McCool, director of graduate advising, and Amy Carroll, senior graduate advisor, also attended the CCME conference as presenters. Their presentation, "Operation Graduate School: Strategies for Advising and Retaining Online Graduate Service Members" focused on providing concrete ideas and action steps for others who may work with online students, specifically focusing on the unique characteristics that military students present in the online environment. This was their first CCME conference.
"It was a great experience to attend this conference as a civilian and learn how to better serve our military students," said McCool. "I was especially excited to hear more about the American Council on Education's transfer credit recommendations based on an individual's military educational background, as this is a common review used with Webster students."