Japanese Calligrapher, Artist Seiran Chiba Presents Workshop Sept. 1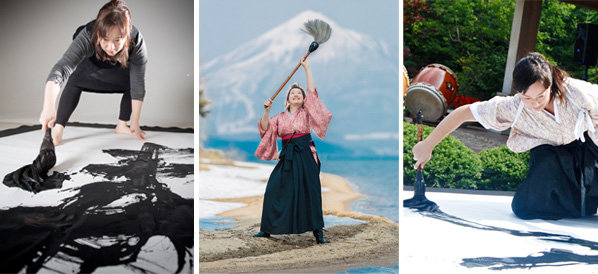 World-renowned Japanese calligrapher and artist Seiran Chiba will visit Webster University to host a demonstration and hands-on workshop. Don't miss this opportunity to experience shodo (calligraphy) with a modern approach inspired by hope and peace on Thursday, Sept.1, in the Sverdrup Building, room 123, from 10:10-11:30 a.m.

Chiba lives in Fukushima prefecture in Japan, devastated by the great earthquake and Tsunami disaster in 2011. Since 2013, she has traveled as the Prefecture's ambassador, spreading beauty through her art.

After Thursday's demonstration, Chiba will be featured at the Missouri Botanical Garden Japanese Festival in St. Louis this weekend, collaborating with Japanese wadaiko (Japanese drumming) to inspire her one of a kind performance.
Contact Suzuyo Rust (surust@webster.edu) in International Languages & Cultures for more information about the Webster demonstration or the performance at the Japanese Festival.
Read more about Chiba and her art in this article at beprimitive.com.