Journal Staff Earns 21 Award Wins at MCMA Conference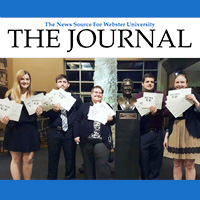 The staff of the Webster University student newspaper, The Journal, received 21 awards at the Missouri College Media Association's (MCMA) annual conference and awards banquet, held April 8 in St. Joseph, Missouri.
The Journal staff claimed a first place Sweepstakes Award in its division of college newspapers. This award acknowledges the most awards won overall. The six other first place awards included best website, news writing, column writing, feature photo, and entertainment and political cartoons. The staff also won the third place award for Best Overall Newspaper.
School of Communications professor Don Corrigan is the print adviser, and assistant professor Mary Cox is the adviser for web journalism and social media at The Journal. Emily Van de Riet is the editor in chief.
Read more about the awards and see the full list of individual journalism student writing, design and cartoon award winners and categories in this story at the School of Communications site.
Access The Journal online at websterjournal.com.