Journal Wins SPJ Excellence, MCMA Sweepstakes Awards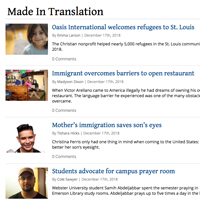 The Journal, Webster University's student newspaper at the main campus in Webster Groves, recently won awards for the 2018-19 academic year at the Society of Professional Journalists (SPJ) Region 7 conference and the Missouri College Media Association (MCMA) annual convention.
At the SPJ Region 7 conference held April 6, the publication won the Mark of Excellence Award for Best All-Around Non Daily Student Newspaper. Webster students Andrew J. McMunn, Christine Tannous, and Hanna Holthaus received individual recognition for their work, and the staff won in the category of "In-Depth Reporting" for their "Made in Translation" series of features on immigration in the St. Louis region.
The SPJ Region 7 comprises Iowa, Kansas, Missouri and Nebraska, and school divisions within the region are based on student enrollment. See a full list of The Journal's SPJ awards in this School of Communications update.
Separately, the publication won 29 awards at the MCMA convention April 13, including the First Place Sweepstakes award and individual awards to Sara Bannoura for Journalist of the Year, and Christine Tannous for Photojournalist of the Year award.
In the MCMA awards, schools are divided into divisions, and The Journal competed against student newspapers from Drury University, Missouri Southern State University, Missouri Western State University, Northwest Missouri State University, and Truman University.
See a full listing of their MCMA awards received in this School of Communications post.