Commemorating Black Culture and History on Juneteenth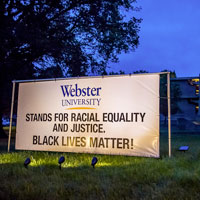 Dear Webster University Faculty, Staff and Students:
Friday, June 19, is Juneteenth, a day commemorating the end of slavery in the United States. On June 19, 1865, Union soldiers arrived in Galveston, Texas, with the news that the Civil War had ended and enslaved individuals were free. This was two and a half years after President Lincoln issued the Emancipation Proclamation. To learn more about Juneteenth, visit the Missouri Historical Society page about the holiday.
As a tangible expression of our commitment to diversity, equity, and inclusion, and in light of the national conversation regarding racism in our country, we think it's important to honor Juneteenth this coming Friday, June 19. We ask that each of you take this day as an important opportunity to commemorate and celebrate Black history and culture.
Therefore, Webster University will recognize Juneteenth as a paid holiday for our U.S. employees on this Friday, June 19, 2020. It is important that we take the time to educate ourselves on the issues faced by Black communities and understand the role that we each play in ending racism.
We hope that this Juneteenth will be both a day of celebration and education for each of you and provides an opportunity to reflect on ways we can work together to dismantling systemic racism in society and at Webster.
Elizabeth (Beth) J. Stroble
Chancellor
Julian Z. Schuster
President
Vincent C. Flewellen
Chief Diversity Officer