Karlie Kloss Visits 'Kode with Klossy' Camp at Gateway Campus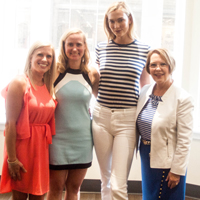 Supermodel and Webster Groves native Karlie Kloss visited the Gateway Campus in downtown St. Louis last week to drop in on one of her "Kode with Klossy" summer camps, which was hosted by Webster University.
Kloss started the summer camps in 2015 to encourage more young women to learn how to write computer code and enter the fields of computer engineering, programming and design.
While at the location, Kloss met Webster President Elizabeth (Beth) Stroble and several employees. President Stroble presented Kloss with a Webster University coin to honor her for supporting the education of young women in communities across the United States.
Kloss also was being shadowed by a photographer from Vogue Magazine as the magazine is planning a future feature story on the summer camp program.