Alumna Kat Golden Receives Prestigious National Geographic Fellowship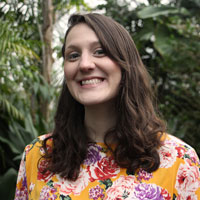 ST. LOUIS - A Webster University alumna's passion for teaching and the environment has earned her recognition from one of the most respected magazines in the world. As a result, she is preparing for a journey halfway around the globe.
Katherine "Kat" Golden, a 2015 graduate from the School of Education's master's in Education for Global Sustainability program and the current sustainability education manager at the EarthWays Center, the sustainability division of the Missouri Botanical Garden, was recognized as this year's Lindblad Expeditions and National Geographic Grosvenor Teacher Fellows in recognition of her commitment to geographic education.
Golden is one of 40 Fellows from the United States and Canada selected for this year's program. As part of the fellowship, they will embark on global expeditions throughout the year on board the Lindblad Expedition ships National Geographic Explorer, National Geographic Endeavour ll and National Geographic Sea Lion for a hands-on experience for professional development. Golden will travel to the Galápagos Islands in November.
"This will be the first time I'm traveling outside the country and I'm thrilled, excited, and terrified," Golden said. "The advice I have learned and share with others is to be bold, tell your story, and get outside! Don't be afraid to try new things."
She said she knows the expedition to the Galapagos is a once-in-a-lifetime opportunity, but she hopes to use the trip to take back lessons to share with the St. Louis community.
"This type of learning and experience can happen in our own backyards. Our community is rich with learning opportunities and spaces that can transform how we see ourselves in the world, how we interact with the environment around us, and the choices we make every day," Golden said.
Golden always knew she would be a teacher. In high school, she volunteered at the St. Louis Science Center and worked with the children on hands-on projects. "There I fell in love with the idea of informal teaching. I also found myself becoming more interested in the environment. I felt a deep connection to place and wanted to help others become a better steward of the planet."
After earning her bachelor's degree in environmental studies, she continued working at the Science Center until a position opened at the Botanical Garden. In her current role, she works with students and teachers from K-12 schools, helping them learn about important topics connecting to resource use, conservation, and sustainability. She also supports other educators in finding new ways to connect these topics to their classroom curriculum, design projects, and implement changes in their schools to be more sustainable. In addition, she supports other community educational opportunities through outreach and the Botanical Garden's Green Living class series.
Golden credited Professor Lori Diefenbacher for helping her earn the National Geographic Fellowship. "She inspired me to pursue my master's at Webster and helped me find my voice as a sustainability educator. The strategies and frameworks that she introduced me to helped transform the way I saw education and the way I taught my own students."
Her colleagues believe that her work has elevated the educational mission of the Botanical Gardens. A statement released by the Botanical Garden when Golden was named a fellow says, "She is passionate about using education to nurture stewardship, creating citizens that are knowledgeable, empowered, and active players in solving the challenges facing our planet."
Besides her activities at the Botanical Garden, Golden also has continued to be active in the Webster University community.
"Not only is Kat an alum, but she will be teaching the course associated with the Sustainability Institute for Educators this summer," Diefenbacher said. "She has been on the planning committee for this event for several years. She was an extraordinary graduate student, and as an aside, a very talented painter!"
To learn more about the Lindblad Expeditions and National Geographic Grosvenor Teacher Fellows, visit https://www.expeditions.com/why-us/grosvenor-fellows/.
To learn more about The School of Education's master's programs, visit http://www.webster.edu/education/academics/masters-programs.html.