Webster, Hispanic Chamber Celebrate Commitment to K.C.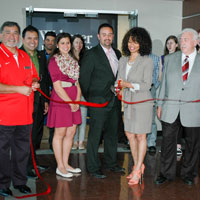 The Hispanic Chamber of Commerce of Greater Kansas City celebrated the new home for Webster University's Kansas City campus location on Wednesday, Sept. 30, with a ribbon cutting ceremony renewing the campus' purpose and commitment to the Kansas City community.
Webster regional director Cass Butler welcomed the chamber's president, Carlos Gomez, along with board members and staff. Butler and Webster faculty member Gene Chavez acknowledged the chamber's leadership and guidance in strengthening Webster University and bridging relationships in the Hispanic community.
At the event, Butler and Chavez emphasized the importance of global and diverse institutions like Webster University in promoting access in minority communities and providing affordable educational opportunities. Butler and Chavez spoke of Webster's 40-year history in the community and the outcome-supported history of providing programs driven by employer and student demand such as Teaching English as a Second Language and the MA in Health Administration.
"The relationship with the Hispanic Chamber of Greater Kansas City is a natural fit, as both are driven by the same strategy: strengthening the communities we serve, educating our communities and networking for professional growth," Butler said.
The chamber and community partners also had an opportunity to hear from Webster Kansas City alumni, who shared their testimony of the power of a Webster University degree and how it has helped improve their professional lives.