Marketing Students Create Plan for Negro Leagues Baseball Museum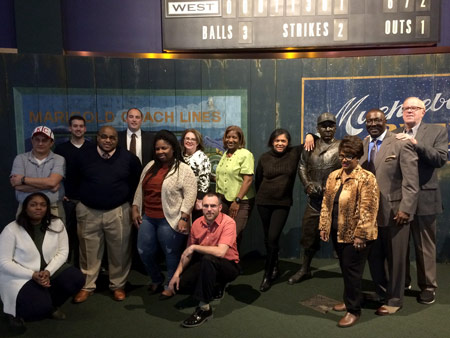 Adjunct faculty member Bill Yeager of Webster University's Kansas City metro campus location recently took his MRKT 5000 (Marketing) students to the Negro Leagues Baseball Museum (NLBM).
The visit was the culminating event of the marketing students' work with the museum.
Weeks prior, the students had been meeting with NLBM's president, Bob Kendrick, to learn the goals of the museum in order to present a strategic marketing plan.
Before the marketing plan presentation on the Field of Legends where 12 life-sized, bronze sculptures of players like Satchel Paige, Josh Gibson and Buck O'Neill reside, Kendrick took the students on a one-hour, guided tour of the NLBM.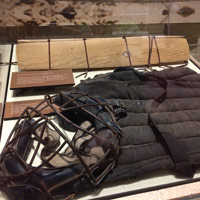 The museum is the only one in the world dedicated to preserving the significant history of African-American baseball.
The culturally-rich NLBM was formed in 1991 and makes its home in the heart of the historic 18th & Vine Jazz District in Kansas City, Missouri.
While the historical events credited (and not credited) to the League are numerous, the most significant breakthrough would be when Jackie Robinson was handpicked from the Negro Leagues' Kansas City Monarchs to join the Brooklyn Dodgers in 1947, breaking Major League Baseball's self-imposed color barrier.
Learn More