Webster, Kent State Expand Partnership with Study Abroad in Florence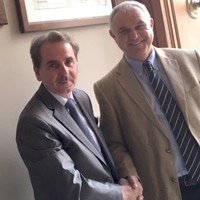 In June, Provost, Senior Vice President and Chief Operating Officer Julian Schuster spoke at a ribbon-cutting ceremony at Kent State Florence to celebrate the expansion of the Webster University/Kent State University international partnership. The event, attended by faculty, staff and students, officially marks the addition of Kent State Florence to Webster's network of international locations.
"Florence, with its rich history and culture, will certainly draw students and faculty from Webster's campuses and from our WINS affiliates," Schuster said. "And we welcome Kent State students and faculty to visit and teach or study at any of our international campuses. As we get to know each other, visit each other's locations, and exchange ideas, I foresee collaborations that will bring new programs and initiatives for our students and faculty and strengthen our strategic partnership."
Marcello Fantoni, associate provost at Kent State and head of the Office of Global Education, welcomed attendees to the Palazzo Vettori, the new site of Kent State's study abroad programs in Italy, located in the heart of Florence near the Piazza del Duomo. Also providing remarks were Fabrizio Ricciardelli, director of Kent State Florence, and David Carl Wilson, professor of philosophy at Webster University - St. Louis, who is teaching in Florence this summer through Webster's Faculty Mobility Program.
Kent State is a WINS (Webster International Network of Schools) affiliate, and the two institutions are exploring collaborative projects such as faculty mobility among the international campuses and joint programming. In April, Schuster delivered the keynote address at the Kent State University Internationalization Symposium.
Resources