Webster Welcomes Lake Forest to WINS Network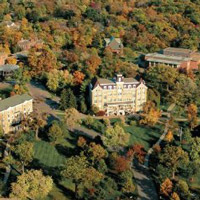 Webster University welcomes its newest Webster International Network of Schools (WINS) member, Lake Forest College, a private liberal arts college along Chicago's North shore.
Founded in 1857, Lake Forest now offers 30 undergraduate major and minor programs in the humanities, social sciences, natural sciences, andalso includesprograms of study in pre-law. The student body includes1,550 students from 44 states and 71 countries, and nearly half of all students choose to double major.
Lake Forest has recently expanded its study abroad offerings to include nearly 200 off-campusstudy programs in more than 70 countries. Webster's international campuses are now a part of that expanded range of programs.
Lake Forest's study abroad director Ashley Sinclair sends students to Webster Geneva, one of many Webster campuses receiving study abroad students, and is excited to begin sending students to other Webster campus locations around the world. As a part of her undergraduate program, Sinclair studied abroad and did an internship through the Odyssey in Athens program. Webster study abroad advisor Nicholas Hall participated in Lake Forest's study abroad fair this Fall.
For more information on Lake Forest's structure and study abroad programs,visit http://bit.ly/2fJf0yp. For more information on the WINS program visit www.webster.edu/WINS or contact Kim McGrath, director of WINS.