Vienna WebsterLEADS Retreat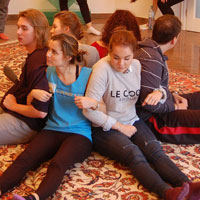 Earlier this month students in the Webster LEADS leadership program from the Vienna campus gathered in Hainburg for Webster Vienna's first-ever 24-hour mini-leadership retreat. Ten freshmen and four upperclassmen senior student leaders attended.
Led by the program's senior leaders and Student Affairs staff, the group worked on team-building, goal-setting, reflection, team-work, and group communication. Activities included mapping their leadership journeys, cooking, and discussing different leadership personalities.
"We hope the freshmen students will now be better prepared to adopt leadership roles on campus, whether in student government, as New Student Orientation Leaders or in other capacities," said Jesse Alexander, Student Community coordinator. "But more importantly, they've learned something about themselves that will help them be better leaders in their own lives and communities."
"The LEADS retreat was a great opportunity to come together and work with like-minded peers who are driven and diverse," said senior leader Alexander Brosseau. "It made me recognize what my strengths as a leader are, and how to help others do the same."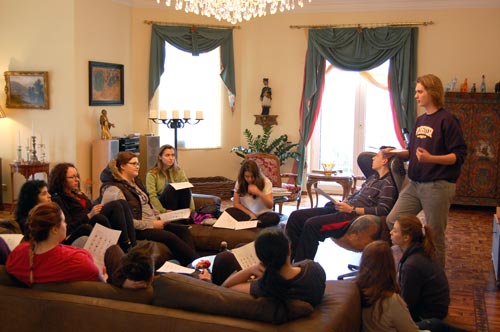 Freshman Stephanie Bürger was likewise enthusiastic: "The retreat was awesome because you learn leadership skills in a relaxed environment!"
The family of bachelor student Matthias Smolej offered their beautiful home overlooking the Danube River as a perfect venue for the event.
For more scenes from the retreat, check out the photos in this Facebook album.
About WebsterLEADS
For over 20 years, WebsterLEADS has engaged students in an on-going application of scholarship and practical leadership experiences that develops a foundation from which they will change the world.
The University's undergraduate student leadership development program began with a focus on a handful of involved students on the home campus in Webster Groves, where Webster University was founded in 1915.
Today, WebsterLEADS has evolved into is a singularly trans-global leadership development program, with over 250 students on Webster's campuses in Webster Groves, Leiden, Vienna and Geneva actively pursuing the Leadership Certificate.