The Legacy of Leadership in Global Education Continues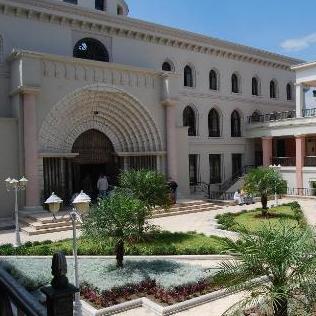 Throughout its more than 100-year history, Webster University has been dedicated to international education in many forms, with campus locations in North America, Europe, Asia and Africa and students from more than 140 countries.
The Institute for International Education Open Doors Report
Webster continues to be recognized for its commitment to study abroad, ranking this year in The Institute for International Education's (IIE) 2017 Open Doors Report. Webster ranked in the top third nationally for hosting international students and ranked among top Missouri universities for sending students to study in other countries, and for hosting students from other countries to study in the state. The report surveyed study abroad programs at more than 1,500 colleges and universities in the United States.
The WINS Program Expands
More than 15 years ago, Webster established the WINS (Webster International Network of Schools), a partnership program allowing full-time degree-seeking students of affiliated universities to study abroad at one of Webster's international locations, and, which also allows for collaborative program development among partner institutions. WINS comprise more than 50 partner institutions, including 20 added just this academic year. More recently additions to the network include two private liberal arts institutions – Tuskegee University in Alabama and Marist College in Poughkeepsie, New York. Accepted students from WINS partner institutions receive a $1,000 travel award to assist in offsetting travel costs. WINS affiliates who are also IIE Generation Study Abroad partners receive additional travel assistance. The first five students to study abroad from each of these institutions receive free round-trip airfare from their home city to the international campus of study and back. To learn more about WINS, visit www.webster.edu/WINS or contact WINS director, Kim McGrath.
MOU Signed with Ecuadoran University
In addition to Webster's own campus network, the University has also entered into several MOUs with institutions abroad. The latest partnership was established this year with Ecuador's first private university, Universidad San Francisco de Quito. The university is known for operating several research stations, including one in the Galapagos Islands. This focus on science and conservation aligns well with Webster's commitment to STEM and global citizenship. Short- and long-term study abroad trips, including some that would take place at the Galapagos station; and dual-degree programs, online learning collaborations and faculty exchanges are all currently in development.
Webster University continues to expand its global footprint and expand study abroad opportunities for students and faculty. I look forward to sharing news of new and developing partnerships and programs as they emerge.