Legal Studies Hybrid Short-Term Study Abroad Program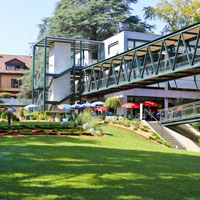 A Legal Studies study abroad offering in Spring 2018 will connect students with the Geneva and Leiden campuses.
During Spring 2, Legal Studies will offer hybrid classes with visits to Leiden, Netherlands and Geneva, Switzerland. The first four weeks are online, and the following take place in Europe.
Information Session
An informational meeting will take place on Wednesday, Nov. 1, 5 p.m. to 7 p.m. in the Webster Groves Room (Webster Hall Room 135).
Topics covered will be International Criminal Law, A Human Rights Perspective (LEGL 4602/5502) with travel to Leiden, and International Issues Related to Women and Children: Human Trafficking and Slavery(LEGL 4603/5503) with travel to Geneva to experience. Students can sign up for one or both classes.
Legal Studies Department
Webster's Department of Legal Studies offers expert instruction from professors who are practicing attorneys and judges from every legal background. You'll learn from judges with the Missouri Court of Appeals and St. Louis Circuit Court, from US attorneys and municipal attorneys, from criminal prosecutors and public defenders, from intellectual property lawyers and corporate attorneys.