Faculty Discuss U.S. Election, Impact at IR Panel in Leiden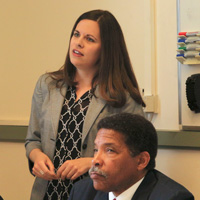 Several American Webster University faculty members teaching at the Leiden campus shared insights into U.S. politics and the aftermath of the 2016 presidential election during a panel organized by Leiden's International Relations Department and the IR Club.
Among those participating were William Hall, adjunct faculty member, History, Politics and International Relations (HPIR); Lindsey Kingston, associate professor, HPIR, and director of the Institute for Human Rights and Humanitarian Studies; and Leiden-based HPIR faculty members Daniel Russell and Jill Adler.
Student Oliviana Bailey wrote about the event in a submission for Leiden's communications unit, with an edited version below:
The panel began with Hall setting the scene for the discussion of the rise of Trump and his resulting 100 day policies. Hall took the audience through the history of presidential campaigns and obstacles that past presidents have faced. He stated that, while Trump might not be recorded as a "great" president, he will make a "hyuuuge" impact in future presidential campaigns. Traditional characteristics like honesty and integrity held by past presidents were distorted over the past year's campaign.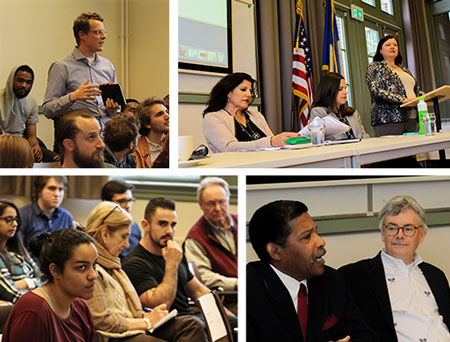 Russell discussed how the 2016 presidential elections were like none we had seen before. The social unrest within the United States and the failure of the Clinton campaign to overcome its political blunders led, in part, to the rise of Trump.
The panel then moved on to discuss the first 100 days of the Trump administration; Adler assured the audience of the strength of the courts within the United States as a check on executive power. Adler pointed to the fact that in the past, many Americans had seen the checks and balances set out by the constitution as being a hinder to progress. She stated that now they are the greatest line of defense of civil liberties.
Kingston concluded the panel by discussing the facts around a hot topic surrounding the new administration: refugees and migration. Kingston dispelled many of the falsities proliferated throughout the presidential campaigns about the U.S. being flooded by "dangerous" refugees. She walked the audience through the extreme vetting and cherry-picking that actually occurs in the American resettlement program.
Kingston, who was recently awarded a Fulbright Lectureship and a National Endowment for the Humanities award that will each advance her research in human rights and citizenship, went on to discuss how refugees have actually saved many American communities from economic turmoil, rather than be a burden on the state, which actually offers little support for them.
An insightful and critical Q&A followed between the audience and the panel, with the consensus dispelling some of the worst fears about the next four years.