Leiden Named 'City of Science' 2022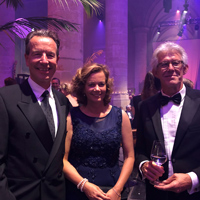 The city of Leiden has received the prestigious title "European City of Science" for the year 2022. As a result, the home city of Webster's campus in the Netherlands will host the biggest biennial multidisciplinary science convention of Europe in 2022.
"This will be a great opportunity for our faculty, Leiden students and study abroad students coming to our campus in 2022," says Jean Paul van Marissing, director of Webster Leiden Campus.
"In the weeks to come, we will reach out to the City of Leiden and see how we can work together on this great initiative."
Webster University has been in the Netherlands since 1983, when it opened the Leiden campus. The city is set in an ideal location between The Hague and Amsterdam, and the campus itself sits along one of Leiden's many canals, in the historic center of the city.