Leiden Communications Grad Jumps into Unknown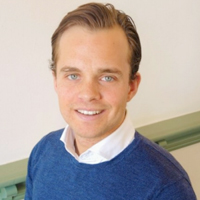 Mike Komor was born in the U.S. to a Hungarian family that relocated to the Netherlands when he was one year old.
"I will always have a connection with the United States," he says. "That is one of the reasons I chose Webster."
Webster University is where he earned his MA in Media and Communications, at the Leiden campus, and it's where he discovered his own natural talents and people skills.
Since graduating, Komor has moved on from an event company he founded and a design studio to delving into sales, where he puts his people skills to work.
"Sales has an image problem. You can't study sales like you can study marketing or psychology, but I loved it, so I chose to develop myself and let go of a business that was doing very well," he said.
In his new role with Mollie, a payment service provider, he's had to build up from scratch -- and "jump into the unknown" -- but it's a move he was ready to make.
"I had to let go of certain lifestyle and went after my gut feeling," he said. "I wanted to learn from others about sales. Now I can do what I really love and what I'm good at."
Read the full profile of Komor [PDF] at the Webster Leiden site.
Learn about Webster's MA in Communications and related programs here.