Psychology Students to Replicate Research in Leiden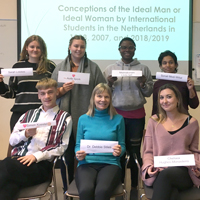 Six Webster Leiden psychology students and their professor, Debbie Stiles, attained IRB approval and began the replication of a research study first conducted at Webster Leiden by Stiles in 1988.
The project, "Conceptions of the Ideal Man or Woman by International Students in the Netherlands in 1988, 2007, and 2018/2019," is under the guidance of Stiles, who taught at Webster Leiden in 1988 and 2007. In 2018 she is at the campus as part of the Leif J. Sverdrup Global Teaching Fellowship. She is also coordinator of Webster's Applied Educational Psychology: School Psychology program.
They will conduct another follow-up study on conceptions of the ideal man and the ideal woman by international students in the Netherlands. In 1988 and 2007, young adults (18-29 years) at Webster Leiden rated 10 characteristics of the ideal man or woman and answered open-ended questions about their ideals, goals, and famous people they admire. The results of the 1988 investigation were published in the Journal of Social Psychology. The results of the 2007 investigation were presented by Stiles at several conferences, but not published due to the high similarity of the findings in both 1988 and 2007.
In 2018/2019 they expect to see some significant changes in participation rates and research findings. In 2018/2019 they will use the Qualtrics, a web-based survey tool, instead of paper-and-pencil questionnaires. That change should increase ease of administration and participation. To bring the survey up-to-date, the researchers have added contemporary language and additional open-ended questions.
There are several benefits for this research project. The students at Webster Leiden will learn more about cross-cultural and international psychology. Faculty, students, and staff at Webster University in Leiden will gain a perspective on students' values from 1988 until 2018/2019. According to psychologist Jeanne Block, "In establishing the cultural modal definition of the ideal male and the ideal female, we have a projection of the values of that culture" (1973, p. 513). In the two previous studies, Leiden students from individualistic countries answered in different ways than Leiden students from collectivist countries and males responded differently than females. In addition, there is scientific value in doing the same survey in the same location in 1988, 2007, and 2018/2019.
The researchers plan to present their findings at a conference in the fall of 2019 and to publish the results of their study in a journal article in the spring of 2020.
Pictured above: (standing) Sarah Lotzkes, Aoife Spork, Nkemakonam Linda Ijeh, Sonali Modi Mittal; (sitting) Simon Koestel, Debbie Stiles, Chelsea Hughes-Monasterio
For more information, please contact Debbie Stiles, stilesda@webster.edu, Jean Paul van Marissing, director of Webster University in Leiden, marissing@webster.nl, Sheetal Shah, Head of Department Behavioral and Social Sciences at Webster Leiden, shah@webster.nl.