Webster Leiden Holds Female Digital Starter Event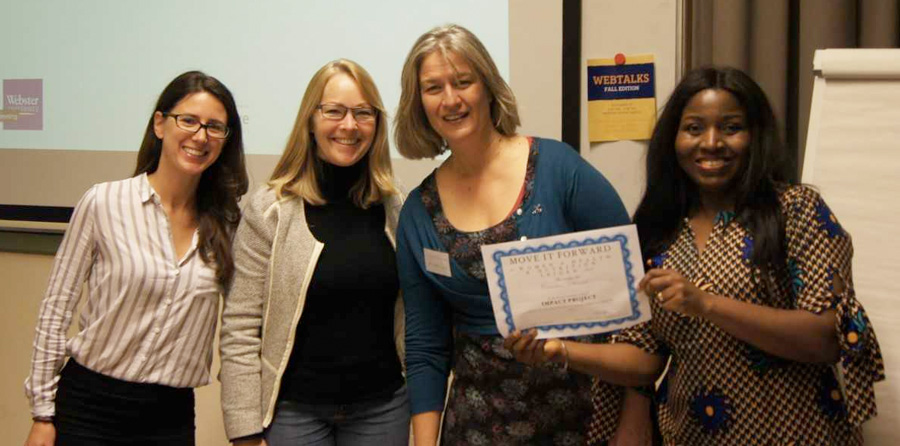 On the weekend of Nov. 10-11, Webster Leiden campus hosted the Female Digital Starter weekend in collaboration with Digital Leadership Institute (DLI), Google, and Leiden Expat Center. Around 30 female students, entrepreneurs, and professionals joined the event to improve their digital skills and test their entrepreneurial ideas.
Saturday: Speakers, workshops, coaching
The event was kicked off Saturday morning with keynote speakers Katja Legisa from DLI and Chalene Lambert from Women's Business Initiative International (WBII). Both speakers highlighted the importance of women's empowerment in education and business, especially with regard to STEM.
Guest speaker, serial entrepreneur, and Webster alumnus Ebere Akadiri echoed the topic by using her personal experience as an example. As a mother of five and an expat in the Netherlands, she managed to continue her education on MA management and leadership at Webster Leiden campus. In the mean time, she branded herself as an ambassador for Western African cuisine, and started her business to serve food and spices from her home country. Realizing the importance of women empowerment, Ebere organized the first women Rise & Lead summit in the Hague in September 2018 with great success. The opening speech was closed by Anne Slotegraaf, a researcher and project manager for nutrition and healthcare alliance, who examined the theme of this year on nutrition and health, and recent innovation in the field.
Katja Legisa and Loredana Bucseneau from DLI gave the first two workshops on Saturday morning and early afternoon. The first workshop focused on website development using wordpress in the cloud, and the second workshop focused on mobile application development using MIT AppInventor for Android. Both workshops were highly practical and interactive. All participants were given step-by-step instructions and offered first-hand experiences in creating a website or/and a mobile application. Although the topics were not easy to follow for all participants, most agreed that the workshops gave them a good idea of how websites/applications could be developed, and the potential benefits for their businesses.
After the first two workshops, the participants started to work in teams to develop business plans for their own entrepreneurial ideas. 6 teams were formed on a voluntary basis, and great dynamics could be witnessed from the very beginning. All participants showed clear dedication to their projects and gave constructive feedbacks to each other. The team work continued on Saturday evening after dinner. Pim de Bokx from Dutch incubation association and Charlene Lambert from WBII coached all the teams on idea selection and formulation.
Sunday: Workshops, business plan presentations, Leiden City Councilwoman interviewed
Sunday morning welcomed the third workshop on Google advertising and analytics. The workshop was given by Google trainer Carina van Selling, with focus on the development of digital marketing strategies. The workshop was very well received among the audience, as almost all participants were considering using Social Media and Websites to promote their businesses, with some pioneering in practicing it. Carina also offered herself as a coach for digital marketing strategies for each team.
The rest of the Sunday went by quickly as all the teams were busy finalizing their business plans and preparing for the pitches. Sandrine Suman from Webster Leiden Campus, and Ron Lameij from Eisenfelt Academy served as coaches on Sunday afternoon, and helped each team sharpen its business case from different perspectives.
Sunday evening saw the peak of the event. The six teams presented their business plans in five minutes in front of a jury panel with another five minutes Q&A. The jury panel consisted of four voting members: Mary Sobiechowski from Fortium Partners, Tara Velis from PLNT Leiden, Marcel de Lijster from Webster Leiden, Snezana Zivcevska from IBM, and one non-voting member, Charlene Lambert from WBII. Three team projects were selected for the awards. The most innovative project aimed to develop a website that can deepen women's network in the work place. The most impactful project aimed to develop an application to offer ethnic food and ingredients from different parts of the world with nutritional information on each recipe. The best overall project aimed to develop an application to support women to navigate the transition through menopause.
The Female Digital Starter weekend was also welcomed by the city council of Leiden (Leiden gemeente). Martine Leewis, the alderman (wethouder) of Leiden joined the group on Sunday evening, and was interviewed by Yang Fan at Webster Leiden campus. During the interview, Leewis shared her experience in various roles as a politician, leader, advisor, mother and wife. When asked for advice on women empowerment, Leewis replied that she firmly believes that education is the key, and that women's networks play a crucial part. After the interview, Leewis handed the awards to the three wining teams.
The weekend was ended with a warm networking buffet dinner, where all the participants, coaches, jury members, and speakers celebrated the event and exchanged contacts and ideas for future collaboration.