Leiden: 'The Human Side of Presenting/Lecturing Online' Virtual Presentation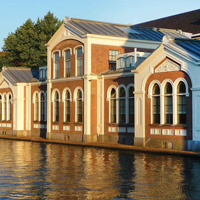 Staff and faculty at Webster University Leiden joined an online workshop, "The Human Side of Presenting/Lecturing Online," on Sept. 15-16.
These workshops were offered by Jonathan Talbott, senior faculty in the GCP and Media Studies department, who has coached more than 250 TED and TEDx talks that have achieved millions of hits online.
The workshop stemmed from the constructive feedback received during the Leiden faculty meeting in July, and to facilitate Hyflex/remote teaching for students in a way that utilizes teaching tools effectively.
Takeaways from 'The Human Side' Presentation
From Talbot: "If you combine this fear of public speaking with the fear of technology and the general desire to do the best for our students, and you have a seemingly unbeatable stress cocktail every time you teach. And did I mention that there are cameras involved, as well?
Fortunately there are a number of elements you can control and a number of simple practices you can incorporate in order to bring yourself more calm as you are lecturing, teaching and presenting in our current online/offline/hybrid world. We may not be able to eliminate the stress, but we can at least reduce it."