Visit Leiden: Take a 360 Virtual Tour of Campus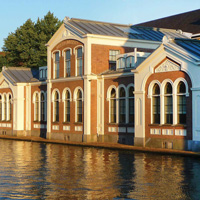 Students thinking of studying abroad at Webster University's campus in Leiden, the Netherlands, can now take a virtual tour of the campus to get a picture for themselves -- and family and friends -- of where they will live and learn.
Three 360-degree virtual tours of the campus are viewable on mobile, desktop or virtual glasses.
The tours offer both a walking view and a "dollhouse" overhead view of the three primary parts of the Leiden campus -- the main campus academic building, the library, and the Living and Learning Center.
Take the tours here.
Located in a community known for its welcoming student-centered atmosphere and culture, Webster's Leiden campus is in the heart of a charming university town that is easily accessible to major cities such as The Hague and Amsterdam.