Students Examine Struggles in 'Night of Dictatorship' in The Hague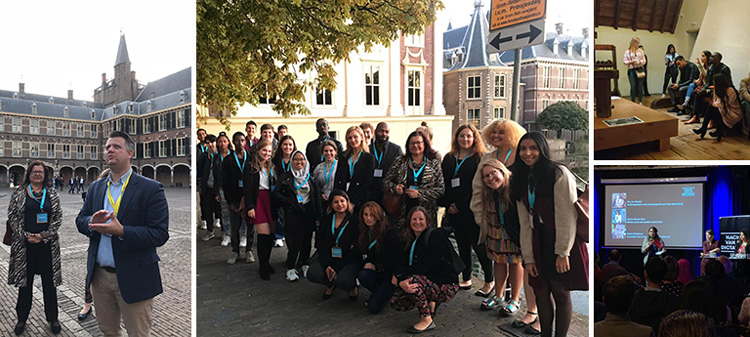 On Sept. 13, Webster University international relations professors Iwona Gusc and Nives Rumenjak led 60 students from the Leiden campus through the annual Night of Dictatorship in The Hague, an experience that highlights the benefits of studying in a place such as the Netherlands, a center of peace and justice.
The yearly event, hosted by a non-profit ProDemos, has a long tradition of highlighting different aspects of dictatorship and the struggle that countries face as they transition to democracy. The question this year was "Which story do you believe?" asking attendees to think critically about what they believe when it comes to power and authority.
Consisting of a panel on the Venezuela Crisis, a deep dive into the research of Bellingcat, an independent journalistic platform, interactive tours with grassroots human rights defenders from Albania and Ukraine, and a constitutional walk that explained the Netherlands' transition to democracy and what that means today, the night explored different challenges of dictatorship and the often turbulent transition towards democracy.
Additionally, there were two exhibits, one focusing on the thousands of refugee children who have gone missing since their arrivals in Europe, and the second on the disappeared villages along the contested Georgia-Russia border.
Students had the chance to learn from human rights defenders and journalists as they were immersed in the experiences of people whose lives had been threatened by dictatorship.
"The interactive democracy to dictatorship tour was really interesting and added a personal touch to the event," said Brianna Willis, a graduate student in international relations. "We were able to hear directly from people affected by dictatorship, which is not something we typically get inside the classroom."
Alongside other community members, Webster students remained engaged and active throughout the evening, taking full advantage of this unique learning experience.