Leiden Psychology Alumna from South Africa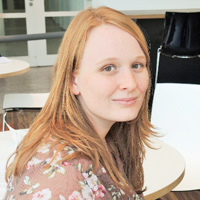 Alumna Kate Avis '12 has followed her instincts and found a career she loves through her transformative experience as a Webster University student at the Leiden campus.
The South African-born Avis, who now lives in The Hague in the Netherlands, presently works at PsyQ International Mental Health Services.
She had always wanted to go to medical school; that was her dream. But a turn of events during a stay in Europe altered her plans.
"During my gap year, I came to the Netherlands since I have family here," she said. "I hadn't made any plans in South Africa, so I decided to stay here and then I came across Webster University." Avis found her direction in the similar steps of her father, who had also been a psychologist.
In a profile of Avis in the most recent Leiden "Alumna in the Spotlight," she credits her success to her experience with passionate instructors, small intimate class settings and exposure to the international environment available at Webster:
"I think the most important advantage of the program is that it exposed me to a lot of different cultures, and that is something I really need in my current job at PsyQ. As a psychologist for expats, I treat people from all over the world, so having an international mindset and knowledge of cultural variation is crucial. I found the international environment to be truly unique to Webster, and I felt that all students were understood and accepted, despite their different backgrounds."
Though finding work in the Netherlands in English as a psychologist is difficult, her positive attitude and determination helped her find the opportunities that led to her present position.
Avis also shared some of her best advice to current students studying abroad:
"If you really want something, you need to keep working towards it, and eventually you will get it."
Read the rest of her thoughts and advice in the full profile story at Webster Leiden [PDF].