Teacher Education Students Immersed in Leiden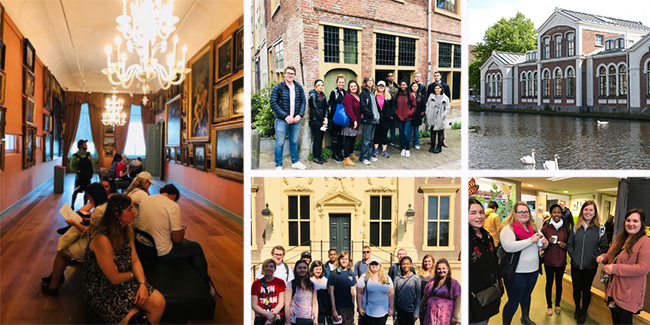 Six Webster University students from the Teacher Education Department in the Webster University School of Education have been immersed in an international practicum for the past seven weeks in Leiden, the Netherlands.
The students went to St. Joseph School in Leiden two days a week to observe students and assist the teacher, and have been teaching the Dutch children English skills. Many Webster students integrated their lessons with art, science and history. They were immersed in Kindergarten, first- and third-grade classrooms.
After six weeks, the Webster students could see real growth and progress in their Dutch pupils as well as in themselves. The Webster education majors also visited The American School of The Hague in Wassenaar and an Early Childhood Center in Leiden. Students also participated in a Pro Seminar to compare/contrast the two types of school systems with an international lens. The seminar focused on cultural identity, school systems, student learning and critical pedagogy in the Dutch society.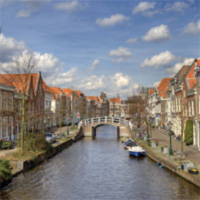 Their practicum was designed by Ted Green, professor in the Teacher Education Department, who is also teaching at the Webster Leiden campus in Spring 2 as part of a Leif J. Sverdrup Global Teaching Fellowship, Webster's in-network faculty mobility program.
Besides the practicum, Green is also teaching a capstone course, KEYS 4012.42 "City Life" as part of the Global Citizenship Program, which enrolled many of the American study abroad students along with seven students from the Leiden campus, including students came from Rwanda and Finland.
Green led students on a field study visit to The Hague as well as a historic tour of Leiden. Of special interest was the American Leiden Pilgrim Museum, where the American pilgrims lived before departing on the Mayflower for America. Students investigated issues that surround metropolitan areas such as urban design, poverty, sustainability, immigration, religious tolerance and how it applies to the Dutch and international futures.
Sheetal Shah, professor of psychology at Webster Leiden, was a guest lecturer in class, discussing human trafficking. Other guest speakers included Anna and Nathan Poel, who led discussions on migrant workers and designing for sustainable housing in high poverty areas.