Jenifer Lewis '79 to Receive Star on the Hollywood Walk of Fame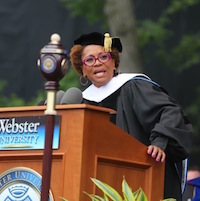 LOS ANGELES - International film and television star and Webster University alumna Jenifer Lewis will be immortalized with a star on the Hollywood Walk of Fame. Lewis announced the honor on Facebook earlier this month. It was also reported in the St. Louis American on June 19 and in Playbill on June 22.
Lewis is a St. Louis-born actress, singer and community activist. She earned a Bachelor of Theatre Arts from Webster University in 1979.
Born and raised in the St. Louis county suburb of Kinloch, Lewis is the youngest of seven children. After graduating from Webster University's Conservatory of Theatre Arts, she launched a successful entertainment career spanning more than 35 years and resulting in more than 200 television appearances, 60 films and four Broadway shows, including a recurring role in the hit ABC television show "Black-ish," which recently completed its sixth season and has been renewed for a seventh.
In 2015, Lewis returned to Webster University to receive an honorary Doctor of Humane Letters for her career accomplishments and many international community engagement efforts, most notably as an AIDS activist and mentor to children and as a Human Rights Campaign Ally for Equality. She also delivered the main Commencement address during Webster's 96th annual Commencement Ceremony in St. Louis' historic The Muny at Forest Park outdoor amphitheater.
Later that year, Lewis served as the master of ceremonies for Webster University's Centennial Gala, helping raise more than $1.2 million in scholarship donations. She returned to Webster again in 2018 to perform a special show in the Webster University Loretto-Hilton Center as part of a book tour.