Actress & Author Perri Gaffney of 'The Resurrection of Alice' Comes to Webster on Nov. 4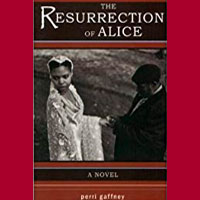 Perri Gaffney, author of The Resurrection of Alice, will be at the Webster University main campus on Monday, Nov. 4, in the Library Conference Room. Gaffney is an accomplished actress, based in New York, is currently in St. Louis performing in The Lifespan of a Fact at the St. Louis Repertory Theatre. She will discuss and perform Alice's story. Books will be available for purchase, and Gaffney has graciously agreed to sign them.
The Resurrection of Alice is a novel and a play inspired by the countless forgotten lives of young, black girls who found themselves in arranged marriages to men that were usually community pillars, financially comfortable, and old enough to be their grandfathers. This type of arrangement, prevalent throughout many countries and cultures for thousands of years, was once a fairly common practice amongst African Americans through the 1950s.
The Resurrection of Alice
Monday, Nov. 4, 4-5:30 p.m.
Webster University Library Conference Room
This event is free and open to the public.
The Resurrection of Alice
In rural South Carolina, 1948, 15-year-old Alice looks forward to graduating from high school (a family first) and attending college on the scholarship she has earned. But her plans are devastated when she learns that she must honor her parents' secret marriage arrangements for her to Luthern Tucker… the lonely, old family benefactor who had been eyeing her since she was seven-years-old. Alice's next 20 years of overcoming trials are a tribute to the power of nurturing and healing that can cause a broken spirit to be reborn.
Praise for The Resurrection of Alice

"Perri has insight and ancestral connections akin to Toni Morrison and Alice Walker."- Evon Marcus, The Cleveland Black Literary Guild
"Heartbreaking and toe tickling."- National Book Award Winner Joyce Carol Thomas
"…a very powerful, inspiring and beautiful story about the possibilities that lie in all of us."-Danielle Sweeney