Library Cybercafe 24 Hour Chat Available During Winter Break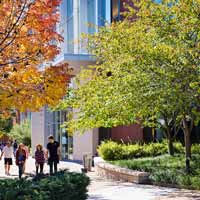 The Library Cybercafe will be available 24 hours a day during Winter Break. This space is accessible from the second floor entrance, and contains computers and a printer. When the Library is closed, the café is only accessible with a valid student, faculty or staff ID card. While the café area will by open, Kaldi's will remain closed until Friday, Jan. 19.
For help with research, a librarian will be available 24 hours via chat. Visit Libanswers.webster.edu to view the chat feature. Chat will not be available on Sunday, Dec. 24, and Monday. Jan. 1, 2018.
In other news, Tuesday, Jan. 2, 2018 the new Library website will go live. Visit the news and events guide for more details.