Library Hours, Access Change During Covid-19 Response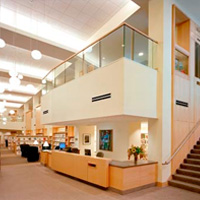 While the University has temporarily transitioned to online learning due to the Covid-19 pandemic, the library is announcing adjusted hours and entry rules.

These changes begin on Monday, March 16, and are expected to end on April 6. The library will be staffed during the following hours:
Monday -Thursday: 8 a.m. to 8 p.m.

Friday: 8 a.m to 6 p.m.

Saturday & Sunday: 10 a.m. to 6 p.m.
During this time, access to the library building will be restricted to only Webster University faculty, staff and students. Webster University ID cards will be required to swipe into the building. Student, faculty and staff ID cards are already activated for this. Please contact the Public Safety department if you have any difficulty gaining entry into the building.
Research help will still be available 24-hours through the library's chat feature, libanswers.webster.edu.
The Cyber Café will also be available for computing, printing, and scanning during this time. The Café is open 24 hours to those who have a valid Webster ID card.

These changes are temporary due to the Covid-19 pandemic. Please watch Webster University communications for updates.