Library Announces Online Presentation Schedule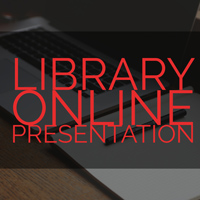 The Library is excited to announce the Online Presentation schedule for the Fall 2018 Semester. A live research expert will demonstrate library resources and offer advice on making the most of our services.
This semester's schedule includes in-demand topics such as Business and Management Research, Academic Integrity, and Mendeley Reference Manager.
Students who cannot attend a live session may register and receive a recording, or view videos on our YouTube channel at any time.
Fall 2018 Online Presentations & Webinars
View schedule and registration at libguides.webster.edu/training/webinars.
Overview of Library Resources - Thursday, Aug. 30, 6-6:630 p.m.
Discover the wealth of information available online to students across the world of Webster. Learn how to access subject-specific research guides, find articles on a topic, access online books, and get help from a librarian. We will show you how to find the information you need when you need it, all from the comfort of your own home.
Business & Management Library Research - Thursday, Sept. 6, 6-6:630 p.m.
Learn how to start strong by selecting the best business and management databases for your major or program and information need. Get tips on how to find business news and journal articles, company information and financials and industry reports.
Ensuring Academic Integrity for Students - Wednesday, Oct. 10, noon-12:30 p.m.
The Library and Writing Center staffs will help students maintain the principles of academic integrity in their work. Topics include the importance of how and why to present your own work and the purpose of documenting your work. The session will include tips for students on practical ways to ensure that you represent your academic work properly and honestly.
Overview of Library Resources and Your Research Questions Answered - Thursday, Nov. 1, 6-6:630 p.m.
The library has many useful resources to help you be more efficient and effective as a student or researcher. We'll begin with a brief introduction to library databases and services. Then, you can ask your own questions and listen in while others ask questions that you, perhaps, never thought to ask.
Mendeley Reference Manager - Thursday, Nov. 8, 6-7 p.m.
Managing sources and citations for large research projects doesn't have to be confusing! Mendeley, a citation tool, generates, stores, and organizes your citations and bibliographies in any style. Learn how to quickly insert citations in Word, generate a bibliography with just a click and share sources with classmates for group projects. Mendeley saves you time and effort, so you can focus on turning in an amazing research project.