Helping Students Succeed: Let the library help with extended site orientations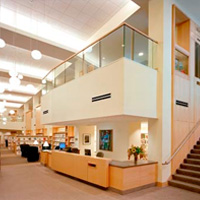 Prepare new students for success by including the Library in your orientations! Librarians are available to appear at your campus via Webnet+ to give students a brief demonstration of the resources and services available to them.
The Academic Resource Center (ARC) also provides this kind of opportunity for faculty, staff, and students worldwide!
Web conference can be as brief as 10 minutes, and be tailored to meet the needs of your students. Our general introduction video, How We Can Help, is also available on the Library YouTube channel and homepage.
Additionally, printable materials for extended sites are available on our news and events page. Our one-page handout, new trifold brochure, and contact cards are ideal for orientation hand-outs.
To invite the library to your orientation, contact Sarah Reando at sarahreando96@webster.edu.
To learn more or invite the ARC to your orientation, reach out through www.webster.edu/ARC.