Western Region Directors Conference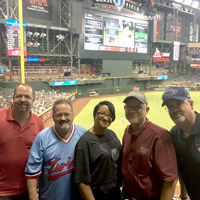 Webster directors in the Western Region had their first annual conference last week, hosted by David Handrahan of the Luke Air Force Base location.
The entire conference was filled with training as well as opportunities to brainstorm about new and innovative ways to reinvent extended campus operations, with participation via WebEx from key departments in St. Louis that presented cutting edge information as well created an open dialogue for directors to share.
Among the participants, including some who lent their insights via web conference:
Michael Cottam and Michelle Loyett, Online Learning Center
Rick Rockwell and Craig Carmichael, Global Marketing & Communications
Dan Perkins, Enrollment Management
Joey Edwards, Memphis Naval Support Activity,
Sandra Kunz, Fort Sill
Ruben Molina, Randolph AFB
Jim Meadows -- George Herbert Walker School of Business & Technology
Michael Cottam – Online Learning Center
Sean Coleman – Military and Governmental Affairs
Janice Neal – Los Angeles AFB
Bill Houth – Peterson AFB
David Handrahan – Luke AFB
A few took in an Arizona Diamondbacks baseball game with Handrahan. Pictured above from left to right: Cottam, Coleman, Neal, Houth and Handrahan.