Webster University Offers Scholarship Matches to MacMurray College Students who Transfer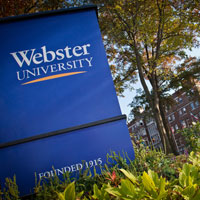 ST. LOUIS - Webster University will match the current academic scholarships MacMurray College students received at their former institution when they transfer into a full-time undergraduate program at Webster. The offer was made just days after MacMurray announced that it was shutting its doors for good due to financial instability.
In addition, students who meet Webster's admission requirements may also be eligible to receive additional scholarships and grants from Webster.
"This is a difficult time for many MacMurray students who find their plans to earn an undergraduate degree has suddenly been derailed," said Joanna Finch, director of undergraduate admissions at Webster. "We believe that an education is an investment that provides a life-long return both economically and personally, and we didn't want to see all these students have their plans put on hold because of decisions made by others."
Webster University has a strong reputation for offering financial and academic resources to transfer students. It has been recognized by the Phi Theta Kappa Society for several years. Webster is one of only 122 institutions, and one of three universities in Missouri, to make the list.
Phi Theta Kappa is one of the nation's preeminent organizations that is focused on recognizing the academic achievements and supporting the scholarship of community college students. These honors are given to institutions based on their Transfer Friendliness Ratings, determined by their profile on PTK Connect, Phi Theta Kappa's online resource for students.
Webster University also has been recognized by numerous organizations for its help in boosting students' "social mobility," a measure of how much more income graduate make after completing a degree, as opposed to what they likely would have made without a degree. In addition, data from the U.S. Department of Education shows that transfer students at Webster graduate at a higher rate than non-transfer students.
In order for MacMurray students to be considered for scholarship matches at Webster University, a student must be accepted for transfer admission and provide proof of their scholarship offering from their 2019-2020 financial aid offer letter from MacMurray College. Students will be required to add Webster University as a school on their 2020-2021 FAFSA and complete the Webster University Financial Aid application.
Dedicated financial aid staff at Webster University are available to help students through that process, as well as match students to additional scholarships, grants, loans and work-study opportunities that would further reduce the cost of their education.
Students receiving Webster scholarships and institutional grants are required to be enrolled in at least 13 credit hours in the fall and spring semesters, maintaining satisfactory academic progress, and be in good standing.
For more information about Webster University's programs or to apply, visit https://www.webster.edu/admissions/transfer/.