St. Luke's Mammogram Screening on Campus Sept. 30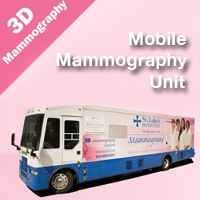 On the behalf of the Webster Wellness Committee, we are pleased to announce that St. Luke's Mobile Mammography Unit will be at the Webster University main campus in Webster Groves on Monday, Sept. 30, from 8 a.m. to 1:30 p.m. The event will take place in Parking Lot G (across from the Parking Garage/Bookstore).
It is important to note:
This service provides 3D screening mammograms for women 40 years of age and over.
The fee will be billed to you or your insurance.
Women with no insurance may be eligible for free mammograms.
Appointments
To schedule an appointment, please contact St. Luke's scheduling at 314-205-6267.
St. Luke's Mobile Mammography Unit
Monday, Sept. 30, from 8 a.m. to 1:30 p.m.
Wenster University main campus
Parking Lot G