Enjoy foods from Syria, Sudan, Somalia, Iraq, Iran, Libya, Yemen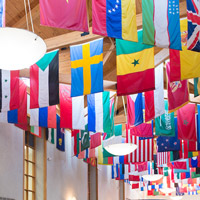 Learn more about the cultures of these seven countries in the most traditional way: by enjoying their food!
On Feb. 28, Marletto's on Webster University's home campus in Webster Groves will feature favorites from Iraq, Iran, Libya, Somalia, Sudan, Syria and Yemen.
Food prepared by the Marletto's executive chef and from a local halal supplier will be part of the menu that day.
Planned Menu Items:
Ground beef kebabs (Iraq)
Basbousa cake (

Somalia)

Banana Masoob/Malikia (Yemen)
Yogurt & Tahini Dip with hummus (Sudan)
Lentil and Spinach Salad with onion, cumin, and garlic (Libya)
Joojeb chicken kabab (Iran)
Fattoush salad (Syria)
Located on the ground floor of Loretto Hall, Marletto's is the largest dining venue on the home campus in Webster Groves.