May Gallery: Centre Francophone Hosts Exhibit, Artist Talk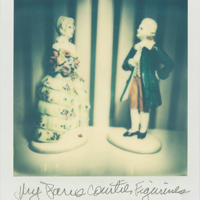 The Centre Francophone will host an artist's talk with Peter Glendinning, whose "Mon Paris" ("My Paris") is on exhibit in the May Gallery March 2-31.
The talk at 3 p.m. Friday, March 9, in Sverdrup Room 123, is moderated by Webster University faculty members Bill Barrett and Lionel Cuillé.
Barrett is May Gallery director and professor in Electronic and Photographic Media in the School of Communications. Cuillé is director of Centre Francophone and the Jane and Bruce Robert Chair of French Studies in the College of Arts & Sciences.
Glendinning is professor of photography in the Department of Art, Art History, and Design at MSU. He was honored as one of 24 American Society of Media Photographers "Best of 2015."
He describes the context for "Mon Paris": "I have rented an apartment in the Marais for two weeks each summer for several years. The environment is eclectic, romantic, nostalgic, of another era but also of today. The patina of the life of the owner that becomes part of my being during this time, is the subject of these "portraits en creux." Connecting in a tangible manner with another man through the experience of adopting his domicile as my own, becomes an opportunity to recognize a resonance that is both sympathetic and real."