Artist Talk and May Gallery Opening: Jen Morris, 'Sanctioned Memory'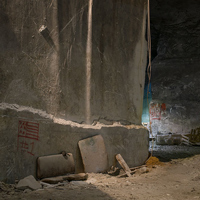 The May Gallery's current exhibition, "Jen Morris: Sanctioned Memory," is on view until Nov. 3. Morris will speak about her work at 3 p.m. Friday, Oct. 20, in Sverdrup 123, and join the reception in the gallery from 5-7 p.m.
"Marble is canonical in the history of materials; its use dates further back than Ancient Greece," Morris writes. "The headstones of Arlington National Cemetery are made in Barre, Vermont. To many in the United States, the individuals serving in the nation's armed forces are as invisible as the quarry workers who provide the stone for their memorials in death.
"'Sanctioned Memory' explores political position, deindustrialization, globalization, histories of land control, permanent structural changes to a landscape, and the use of a limited resource. These photographs investigate how marble memorializes an American ideology and endorses a version of historical representation."
Webster Eclipse Photos in the Small Wall Gallery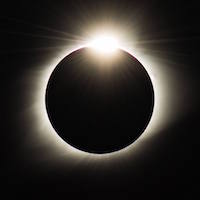 Also, in the Small Wall Gallery see solar eclipse photos from Webster faculty and staff members Bill Barrett, Inocencio Boc, Ron Gaddis, Patrick Giblin, Christine Giancola, Kristi Lenz and Susan Hacker Stang.
May Gallery events are free and open to the public. Gallery hours are Monday through Friday, 9 am to 9 pm, and Saturday and Sunday, noon to 5 pm.