May Gallery Hosts Perloff Landscape Exhibition and Lecture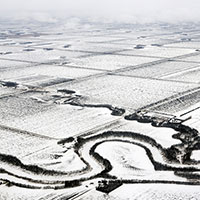 The upcoming May Gallery exhibition "North Dakota — and Other Landscapes" runs at the May Gallery Nov. 1-27. Artist Stephen Perloff will speak about his work Friday, Nov. 8 at 3 p.m. in Sverdrup 123 followed by a reception from 5-7 p.m.
Perloff is the founder and editor of The Photo Review, a critical journal, and editor of The Photograph Collector, the leading source of information on the photography art market. He has taught photography and the history of photography at numerous Philadelphia area colleges and universities and is the recipient of two grants from the Pennsylvania Council on the Arts for arts criticism.
Stephen Perloff's "North Dakota — and Other Landscapes" features frigid landscapes in North Dakota abstracted with snow. While many of his projects have involved the built environment and human altered landscapes, this is his first project where the landscape itself takes precedence of human presence. These photographs are supported by a selection of early landscapes to show the evolution of possibilities in the current digital environment with the North Dakota pictures.
His photographs have appeared in numerous exhibitions and reside in many museums and private collections. He has been widely praised for his writing about the photography art market, including his detailed auction reports, and for his extensive reporting. His articles have been reproduced in numerous journals.
May Gallery events are free and open to the public. Gallery hours are Monday through Friday, 9 a.m.-9 p.m., and Saturday and Sunday, noon to 5 p.m.