May Gallery Hosts Tod Bryant's 'Troop C Armory' Exhibition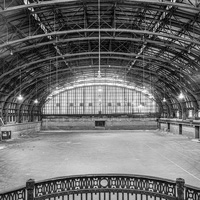 The May Gallery's current exhibition, 'Tod Bryant: Troop C Armory,' is on view through March 27. Mr. Bryant will speak about his work on Friday, Feb. 28 at 3 p.m. in Sverdrup 123. Following the talk, there will be an opening reception in the gallery from 5-7 p.m.
Built for a National Guard horse cavalry unit, the Troop C Armory was constructed between 1903 and 1907 on 3 acres in Brooklyn, New York. The armory was designed to accommodate an entire squadron in mounted drills.
It evolved over time to reflect the change from horses to tanks after World War I, and for other units. These photographs were made for the New York State Historic Preservation Office to document the building before its conversion into apartments.
Tod Bryant trained in historic preservation, and is an architectural historian as well as a photographer. He taught photography at the New School in New York City for over 30 years.
May Gallery events are free and open to the public. Gallery hours are Monday-Friday, 9 a.m.-9 p.m., and Saturday and Sunday, 12-5 p.m.