Webster Graduate Gives Back to His Community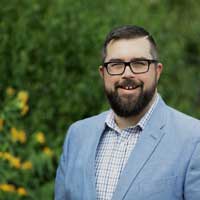 ST. LOUIS - Homeless on Halloween. That would have been the story of Charles and Katya Campbell last year. After some problems with their landlord and a maintenance man, the couple was threatened with eviction from their apartment. But a group of good Samaritans that included 2007 Webster University graduate Nick McGeehon helped find them a new home before the holidays.
Charles Campbell is a veteran and suffers from PTSD. He and his wife have two young children. They both thought it was going to be difficult to find a new place to live, especially so close to the holidays. Fortunately for them, though, the officers who responded on the scene after an altercation with the maintenance man had experience in working with veterans.
The officers got together with Manchester Mayor Mike Clement and Alderman Megan Huether to meet with the apartment officials, and although the apartment refused to reverse the eviction notice, they did agree to let the family stay until the end of the year.
That's where McGeehon came in. "During a leadership meeting at my church, a fellow board member brought up the story of Campbells and what they were going through," he said. "Afterwards, I walked up to Mike Clement and said, 'I think I can help them.'"
Now a real estate agent, McGeehon originally graduated from Webster with a B.A. in Public Relations. "I recently switched careers from political fundraising to real estate after having some difficult life events in 2018," he said. "But my time at Webster reinforced a concept within me that life is about things bigger than yourself. I think that was something I carried with me into this situation."
Working with Mayor Clement and investor Will Brinkhorst, they spent over a month looking at houses that might be suitable for the Campbells, keeping the family's budget, needs, and wants in mind. They finally found one in the Manchester/Ballwin area, and the Campbells were able to move in right before Christmas.
"I chose real estate because of the power it has in changing people's lives," McGeehon said. "Helping this family underscored that for me and gave me confidence in my abilities to represent clients and help make a difference in someone else's life."
McGeehon said he was honored to have been able to help this family find a home. He said, "Everyone deserves a safe place to live and raise a family, especially those who have made sacrifices such as veterans."