MCISA to Host Virtual I-Fest April 17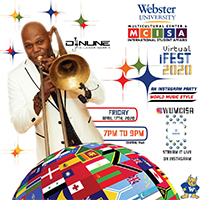 Though you can't physically attend Websters popular I-Fest this year, the spirit of it will live on virtually!
This year the Multicultural Center and International Student Affairs (MCISA) will be hosting on their Instagram Live an online virtual I-Fest with local entertainer DJ Nune (Lamar Harris), who was the scheduled entertainment for I-Fest.
Virtual I-Fest will take place on Friday, April 17, from 7-9 p.m. on the MCISA Instagram page @WUMCISA
"I saw that many artists began doing online concerts and DJ sets," said Larry Morris, assistant director of Multicultural Affairs at the MCISA. "I joined a few, and it hit me, why can't we do the same? So I spoke with my colleague and I-Fest lead Bethany Keller, and she loved the idea. Lamar was instantly on board, and here we are."
"These days of quarantine are challenging us to connect with one another in new ways. We are stretching and learning in new directions. Routines are upended; our daily lives are different than before," said Bethany Keller, assistant director of International Affairs at the MCISA and I-Fest supervisor. "Some of us are really isolated living along, and some are in closer quarters with family and friends than ever before. There is no better time to stay connected and have a chance to dance it out (together but separately).The tradition of I Fest lives on virtually, and we would love for everyone to join the party."
How To Join The Party
This virtual event is free and open to anyone who would like to participate. Students are asked to send in song requests via direct message to the MCISA's Instagram. "We want students to suggest songs. We are requesting that songs are not overly explicit or political as we want to keep the event fun and non-offensive. Lamar will work to play as many songs as he can, but what he can't get to, we will roll over to a September event we are currently planning," said Morris.
For more information, follow the Multicultural Center on Instagram @WUMCISA or contact Bethany Keller at bethanys@webster.edu or Larry Morris at morrilar@webster.edu.