MCISA Celebrates MLK Life, Legacy Jan. 30: 'Tearing Hatred from the Sky'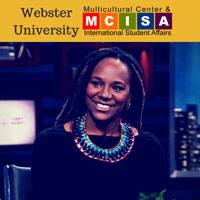 Webster University's Multicultural Center and International Student Affairs (MCISA) will celebrate the life and legacy of Dr. Martin Luther King, Jr. on Monday, Jan. 30 in the Luhr Building at 5:30 p.m.
The event pays tribute to the sacrifice Dr. King, and others, made in the fight for equality, justice, and civil rights. The commemoration will also serve as a way to recognize those whose fight for the same principles have gone relatively unheralded and unnoticed.
The event will include dinner, a band, and Webster University's Gospel Choir. The keynote, entitled "Tearing Hatred from the Sky", will be delivered by activist Bree Newsome, who was arrested in 2015 after scaling the 30-foot flagpole in front of the South Carolina statehouse to remove the Confederate flag, which is seen by many as a symbol of racism and hatred.
Tickets
Students, faculty, staff and community members are welcome. Free tickets can be picked up from the MCISA tables in the University Center Jan. 20-27 from 11 a.m.-1 p.m., or by registering via blogs.webster.edu/mcisa.