MCISA Welcomes Actress and Activist Dominique Jackson, Oct. 17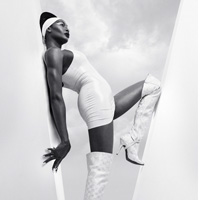 Join the MCISA in welcoming LGBTQIA activist, and a star of the hit Fox television show, "Pose," on Oct. 17 in the Luhr Building.
Dominique Jackson will discuss her role as an activist for the trans, women's and LGBTQIA+ rights movements. Jackson seeks to enlighten others about what it's like to be a trans woman in today's society.
About Dominique Jackson
Dominique Jackson has expressed her life as a trans woman through her successes as an actress and model. Before her time playing New York City's reigning ballroom champ, Elektra Abundance, in FX's "Pose," Jackson was seen in the award-winning docu-series "Strut," produced by Whoopi Goldberg. The series provided an inside look at the world of fashion through the eyes of burgeoning trans models.
The Tobagonian-American actress has been a beacon of hope for many in the LGBTQIA+ community, and her presence here at Webster offers a great opportunity to gain insight into the success and struggles of being a trans woman both on and off the camera.
Tickets
Admission is free to students and $10 for faculty, staff and community members. In order to receive entry, you can purchase tickets here.