Mendeley Reference Manager Streamlines Research for Large Projects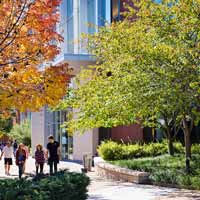 The library offers access to Mendeley Institutional Edition, which simplifies research organization, collaboration, and citation. Export sources directly to your collection from the web or library resources, then share, annotate, and more. The desktop application inserts citations and bibliographies into Word with just a click, potentially saving hours of formatting. Mendeley is recommended for students in research-intensive majors, those completing a thesis or capstone project, and faculty or staff who are interested in publishing.
To schedule a classroom demonstration or an individual appointment, contact Sarah Reando at sarahreando96@webster.edu.
Create your Mendeley account using your Webster or Eden email to get access to:
100 GB of personal library space

100 GB of shared library space

Create

unlimited

number of groups with up to 100 members each

More tools for maximum resource sharing!
To learn more about Mendeley, please visit this link.