Javier Mendoza Comes to Webster University April 7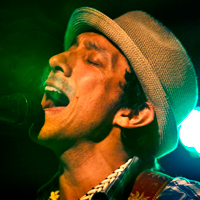 Renowned contemporary Spanish musician Javier Mendoza is coming to Webster University on April 7 .
The Department of International Languages and Cultures (ILC), the Society of International Languages and Cultures (SILC), the Latin American Student Organization (LASO) and the Saint Louis bilingual paper Red Latina (Cecilia Velazquez, publisher) are joining efforts to bring this exciting event to Sunnen Lounge, as part of the Spanish Intensive Weekend.
The Webster University community is invited to attend this free event and enjoy contemporary Spanish songs and guitar.
Details
The Webster Community is invited to attend this free event and enjoy contemporary Spanish songs and guitar.
Date: April 7
Time: 4 p.m.
Where: Sunnen Lounge
About
Javier Mendoza
Born as Javier Alberto Mendoza in the state of Virginia to a Spanish mother and Mexican/American father, Javier's love for music burned bright from a young age. He started his musical career joining Warner-Chappell as a staff writer in Miami, FL. There he spent his time writing tunes for mega pop sensations such as Enrique Iglesias, Juan David, Ricky Martin, Rosario and more. The ever-winding path of life took him to Saint Louis: City of Miles Davis, Tina Turner and Chuck Berry, where he saw musical success with his new following. In 2014 Mendoza moved to Music City, Nashville, TN where he is embarking on a project as Hobo Cane.
Why Hobo Cane?
"According to the critics, I've always been too Rock for Pop, too Pop for Alternative, too Anglo for Latin and even sometimes too Latin for Anglo. I think that's a good thing. A hobo is a transient and migrant worker. I've moved from place to place all my life, and I was raised among different cultures and languages. I think my songs are influenced and enriched by that diversity. I want to help destroy the stereotype of any music. My mother's last name is 'Cañas', which means 'Canes' in Spanish. So that's me.... HOBO CANE."
Pure heart and soul. That's how you can best describe Hobo Cane.
Check out Javier's music on Spotify here.

Visit Hobo Cane's website.