Chancellor, President and Chief Diversity Officer Message for International Students Studying in the United States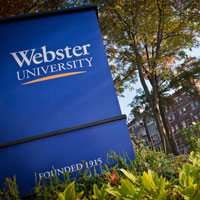 The following message was distributed on July 10, 2020.
To Webster students, faculty and staff:
This week, the U.S. Immigration and Customs Enforcement (ICE) agency announced a new policy that would require educational visa holders (F-1 and M-1 visas) in the United States who are enrolled only in online courses full-time in the fall to either enroll in face-to-face courses or immediately leave the country.
We want our international students to know that we have welcomed you and will continue to welcome you as Webster students because your presence strengthens our educational community, enriches the quality of our lives, and your leadership now and in the future is essential in advancing Webster's core values, mission, and vision. The contributions of your presence make Webster a better university for everyone. As a university community, we stand in solidarity with you because you are a valued member of this university community.
During these already challenging times, we pledge to work together as a university community to identify solutions and approaches that will support your presence at each of our campuses, including St. Louis. Webster plans to have in-person classes in the fall which would help you meet the new ICE requirements to study in the United States. International students with questions about how the new policy may impact them can contact Samrat Ray Chaudhuri, director of Global Recruitment, at raychsam@webster.edu. Colleagues in Multicultural Center and International Student Affairs (MCISA), Student Affairs, and the Office of Diversity, Equity and Inclusion are conferring about ways we can provide specific support for our international students.
This University's commitment to high-quality learning experiences that transform students for individual excellence and global citizenship is expressed in many ways; key among these is a dedication to the free flow of people and ideas. Since our beginnings more than a century ago, Webster has welcomed people from other countries. Our first international students arrived in 1919, just four years after our founding. Today, we are proud to have a strong body of international students and vibrant community of faculty, staff, and administrators from all over the world. Our community is global, and international students are a vital part of our identity and our aspirations.
We are in close communication with educational organizations and representatives in Washington D.C. to clarify the policy, as some aspects are vague or unclear, and to advocate for policies that truly value international students as well as the various modes of instruction that increase students' access and success. We also are closely watching the lawsuits filed by peer institutions and other organizations that are asking the courts to quickly block the implementation of this policy.
Members of our university community, we seek your voices and actions to help each one of our Webster students feel welcomed and supported during this time.
Elizabeth (Beth) J. Stroble
Chancellor
Julian Z. Schuster
President
Vincent C. Flewellen
Chief Diversity Officer